I'm a lucky guy.  A few weeks back I "won" an all-expenses paid, two-day trip to New York City in exchange for a few days of meetings with potential investors in my company.  Conveniently, said investors all happened to have offices in Manhattan, which is basically the epi-center of the world's fine dining scene.  The two nights I had on the town were fully exploited with dinner at Japanese-Latin inspired Nobu and then again at one of the city's very best restaurants, Wylie Dufresne's molecular gastronomy rich WD-50.  But I didn't let the day time go to waste and managed to sneak in lunch trips to Bobby Flay's Bar Americaine and Mario Batali's Lupa!
Nobu, founded by Chef Nobu Matsuhisa and co-owned by Robert DeNiro, is now a chain with probably 20 restaurants world-wide.  Laura and I have eaten at the Nobu in Miami and my experience at Nobu New York wasn't much different.  The food is great, but in our home base of the San Francisco/Bay Area we get such amazing sushi that Nobu doesn't have the "wow" factor it might otherwise have.
More importantly, what the hell is going on with Nobu serving bluefin tuna, an endangered species, for dinner?  I kid you not, Nobu has several courses on their menu that feature bluefin tuna, claiming consumers "should be able to choose for themselves."  Does that mean it's ok to put some Cheeta capraccio on the menu?  Black-footed ferret fricasee?  Elephant shanks?  Even if one chooses to serve or eat non-sustainable food, making an "informed" choice to serve or consume an ENDANGERED SPECIES is past the point of reasonableness in my book.  Think bluefin aren't really that rare?  One sold for almost $400,000.00 recently in Japan, which is about 500 bucks a pound.  They cost that much because there are so few left!  My rating for Nobu: Avoid.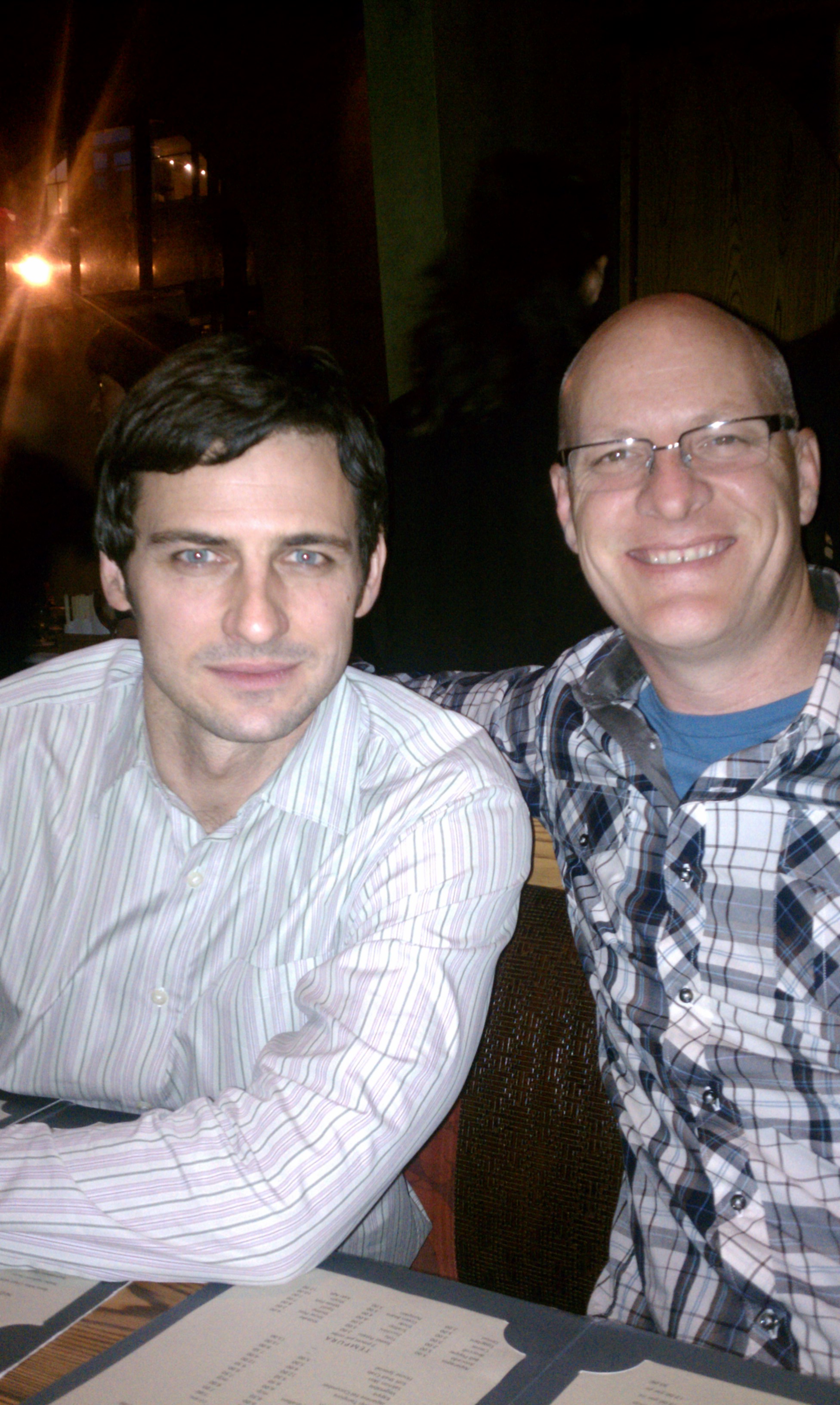 WD-50 is a truly amazing experience.  Wylie, the founder and head chef, is renowned for pioneering the use of ingredients such as agar agar to form gels, liquid nitrogen, emulsions, foams, "caviars" and more in his cooking to create unique textures, forms and tastes that have transformed the world's view of fine dining.  Wylie's type of cooking is based on unique combinations of ingredients that surprise both the eye and the palate. Chefs such as Grant Achatz at Alinea have based much of their work on the foundations created by Wylie.  Not everyone agrees that this type of cooking is good for the world.  Italian lawmakers have been trying to ban many of the ingredients used in this type of cooking, and even want to ban liquid nitrogen which is used to "blast" chill foods!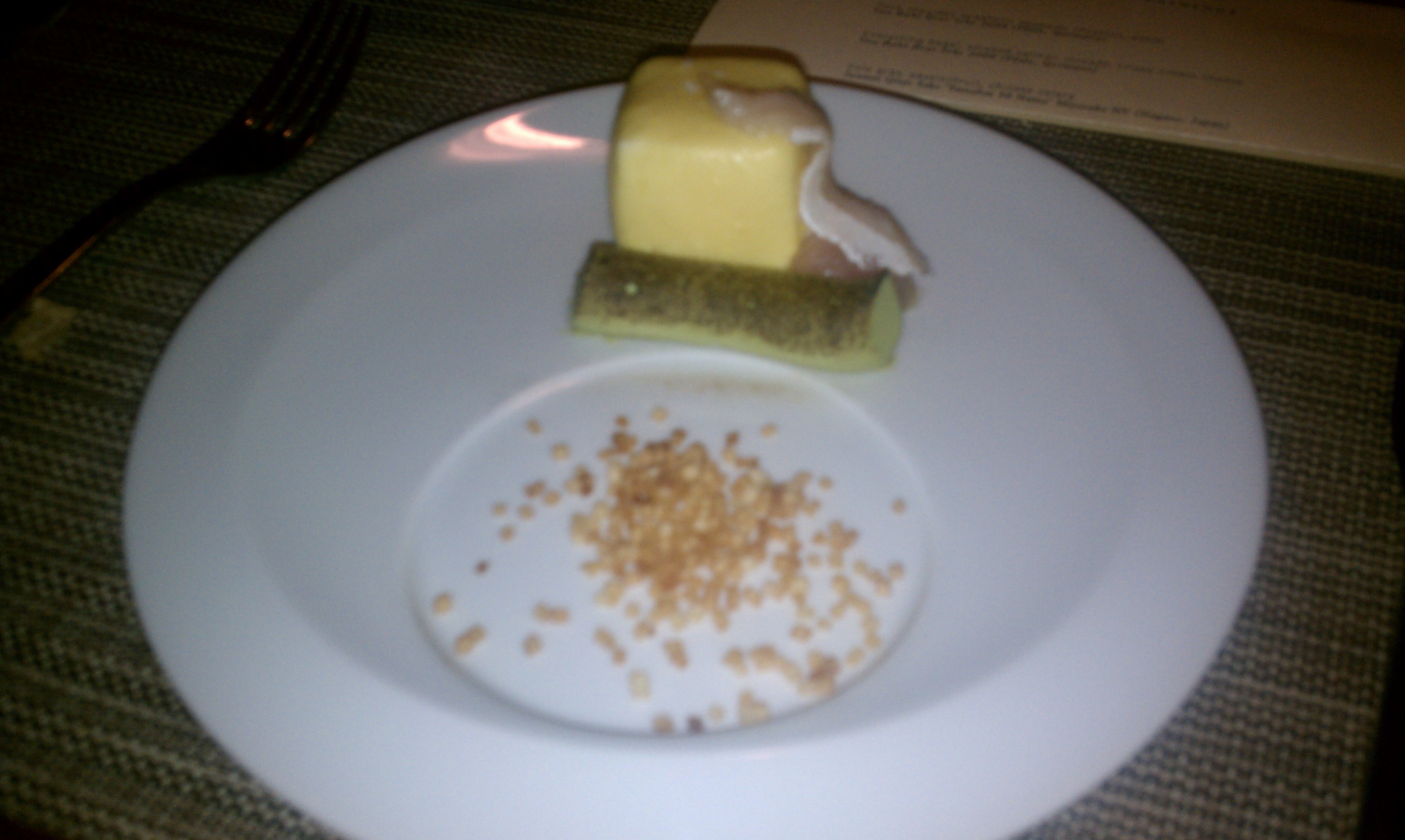 But back here at home in the good old US of A, the tasting menu at WD-50 includes whatever ingredients are needed to form foie gras into cubes, turn eggs benedict inside out, and much more.  Not for the faint of heart, we arrived at 9:30pm and didn't leave until 2am.  I could rave plat by plate, but you can see some of my pictures below and then Google to your hearts content to learn more about WD-50's menu.  The night I was at there, Jon Bignelli, the Chef de Cuisine was running the kitchen.  That was kind of cool since I'd just seen Jon on Chopped only a few weeks before.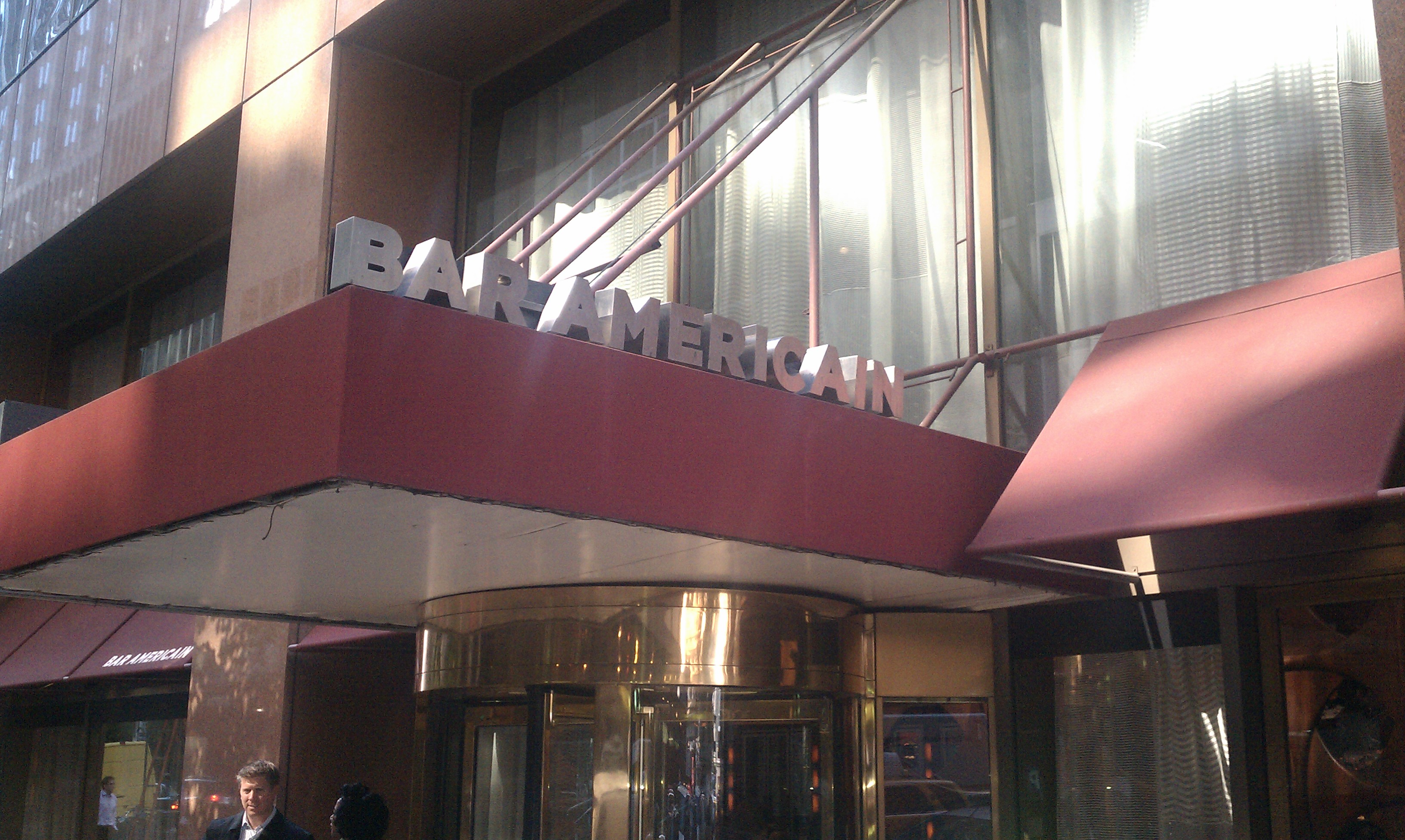 For lunch, I was able to add to my Bobby Flay portfolio of visits with a stop at Bar Americain.  Laura and I had dinner at Mesa Bar & Grill several years ago on a previous NYC outing and remain huge Bobby fans, especially of his Throwdown series, whose opening scenes are filmed at Bar Americain.  Arriving about 15 minutes before service started, I propped myself up on a stool at the bar and watched the service team practicing the menu and reading out-loud some of the recent reviews of the restaurant as part of the pre-service "pump up"!  Very cool indeed!  For lunch, I couldn't resist the lobster roll, which was terrific, and loaded to overflowing with huge chunks of lobster.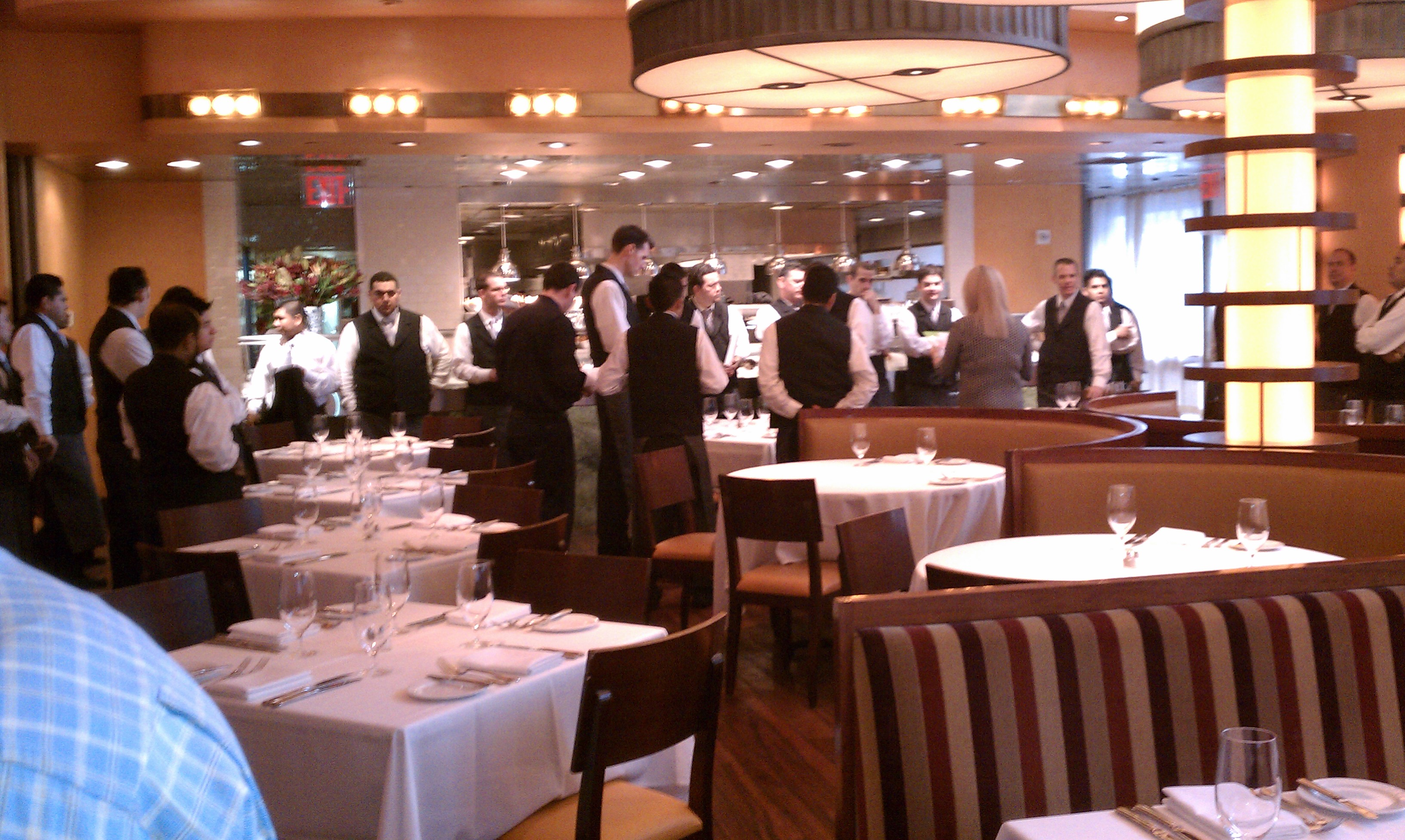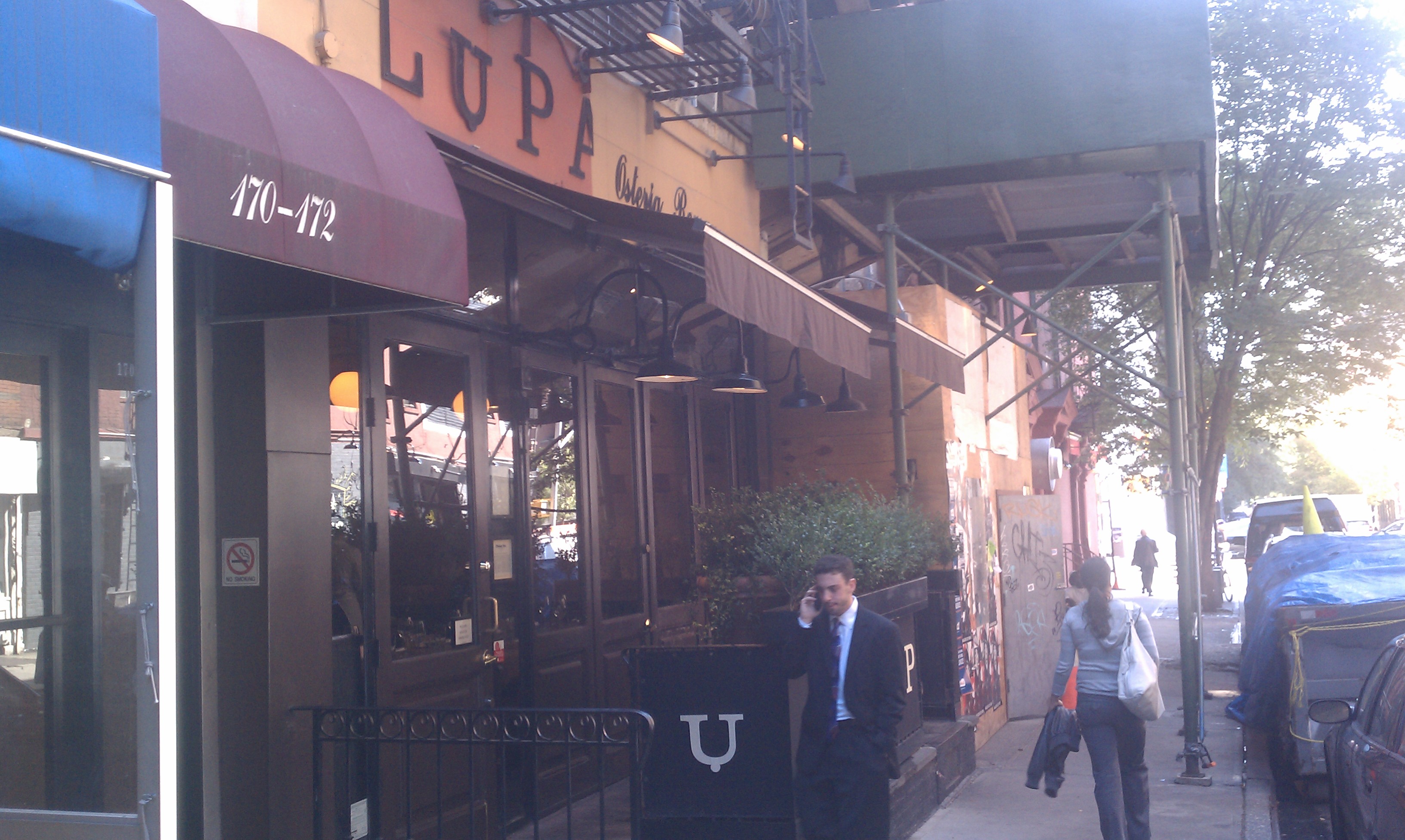 Finally, for what was arguably my favorite meal of the trip, I caught lunch at Mario Batali's restaurant Lupa.  My most recent experience at a Mario Restaurant was in Las Vegas at Carnevino.  I was unimpressed with Carnevino – a filet poached in butter for fifty bucks, no sides of any kind included.  And instead of butter for the bread they served lard.  I'm not kidding.  Lard.  And, the server attempted to convince us that LARD was not bad for you!  Wow, who knew that the medical profession had gotten this one so wrong?  Back to Lupa – not surprisingly for Mario, the theme of this restaurant is also carne, but with a more rustic and creative approach.  I started with a selection of house made head-cheese and salami, prosciutto di Parma and house-cured olives.  Really, really (I mean really) good stuff.  For my main, the house made tagliatelle with a no-tomato pork ragu set a new standard in my mind for rustic Italian.  The pasta was 2-3 times thicker than is typical, so only a few large pieces of pasta constitute a full meal, and the ragu consisted of shredded pork in a thin, delicate, transparent sauce.  Truly excellent food, and a definite "repeat" for the future!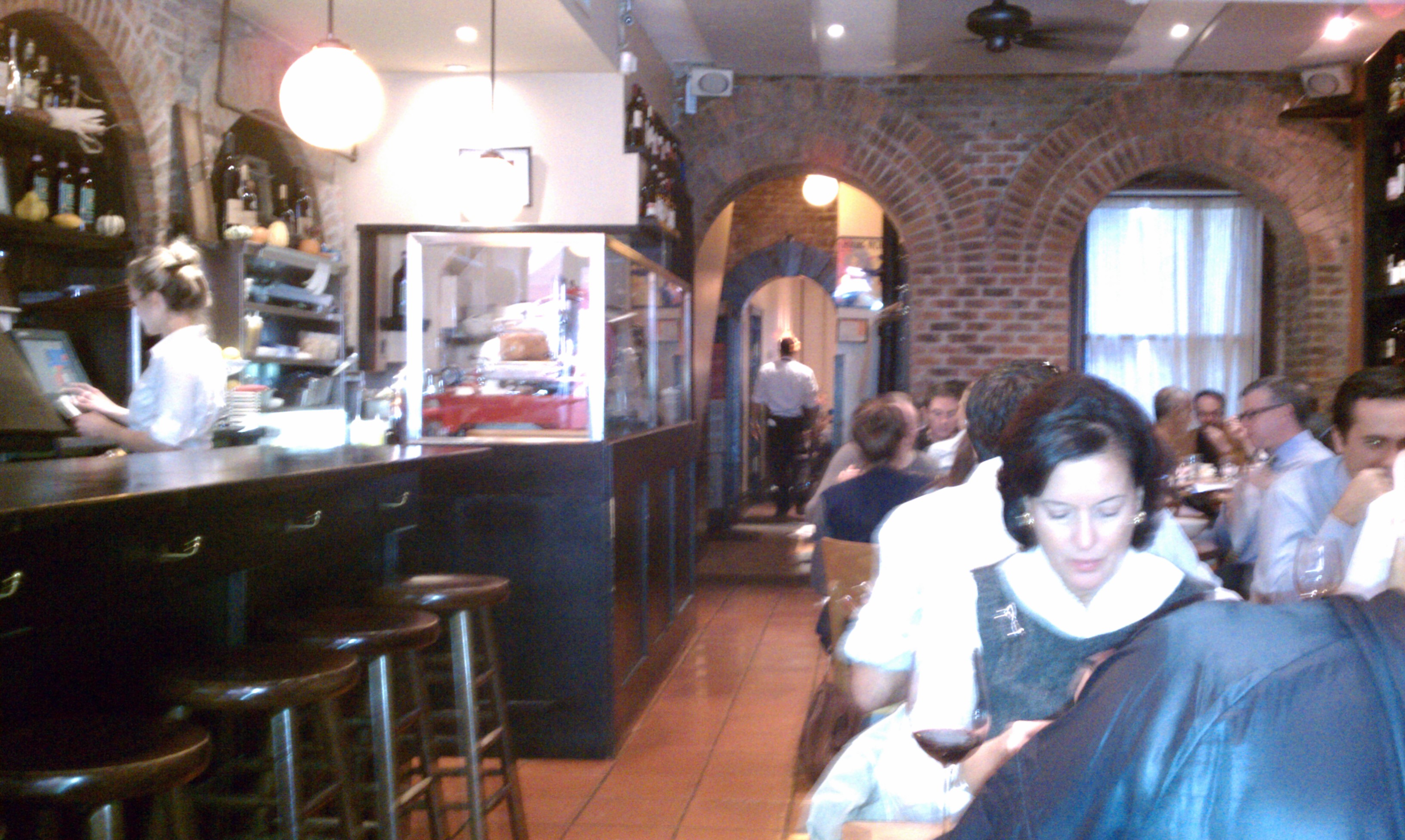 So there you have it: two days on the ground in New York City and four amazing restaurants, two of which rocked (WD-50 and Lupa), one of which solidly lived up to its reputation (Bar Americain) and only one (Nobu) that pissed me off, pretending that its ok to serve endangered species for dinner.  And by the way, bluefin is on their LUNCH menu too.  Make that doubly pissed off.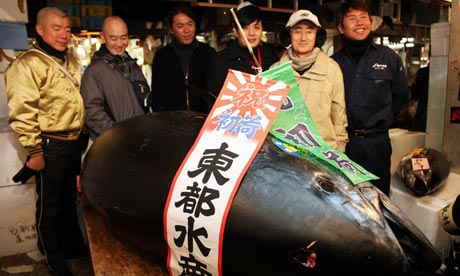 – Chris