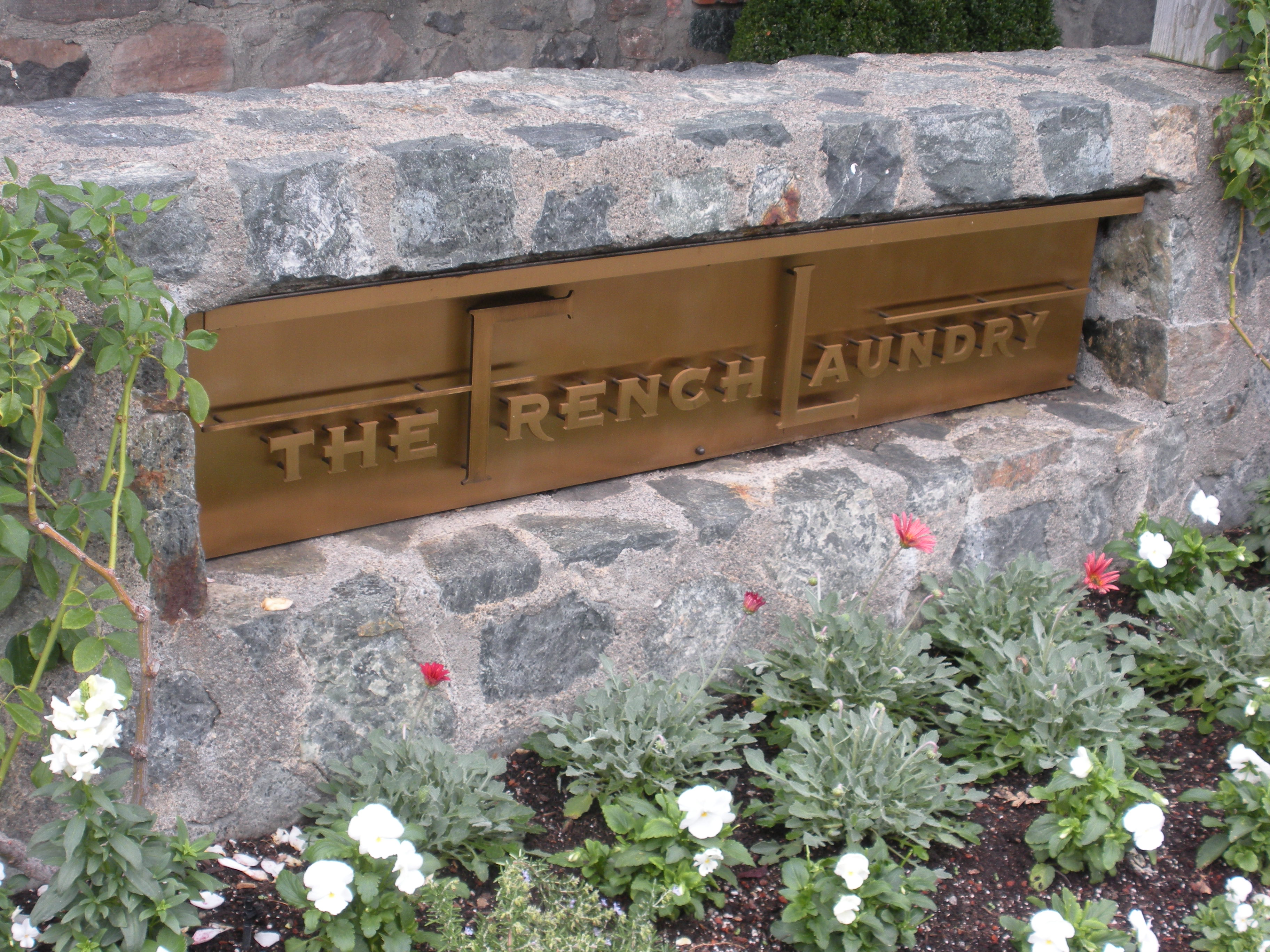 We kicked off my 48th birthday celebration this year with dinner at Zuzu in Napa, and picked up steam from there.  The crescendo meal for the weekend was a mid-day dinner at the French Laundry in Yountville, a three start Michelin restaurant owned by Chef Thomas Keller and often ranked as the best restaurant in the world by many magazines and industry groups.  Not only is it really difficult to get reservations at The French Laundry, I've resisted the place for a long a time based on the requirement to wear a jacket, the price, and the overall hype.
I hate stuffy restaurants, I hate long and boring tasting menus, and I hate being part of the mindless cheerleader crowd over whatever is the fad of the day.  While this last point is just part of my personality, the first two points became solidified in my mind based on two seminal events, one that occurred at Aria, located in Sydney, Australia and one in London at some highly rated French restaurant whose name isn't worth mentioning or even remembering. At Aria, which is a fine restaurant with great food, we ordered a tasting menu that I swear to God took five hours to complete!  While the food was good, and maybe even great, the experience sucked.  For me, it put an end to most tasting menus.  At the place with no name in London, Laura and I ordered a very expensive bottle of wine, but since we weren't especially hungry, we asked to share an entree.  You would have thought we asked them to commit illegal acts with furry animals based on the reaction.  Mistakenly, we held our ground even after a vociferous objection, and that was the end of anything resembling a good experience that night.  We didn't see the waiter again for an hour, and that includes not getting our wine.  However, this restaurant happened to have a beautiful vase full of small pearls as the center piece on each table.  Somehow, at our table, that vase was mysteriously tipped over, sending hundreds of pearls shooting across the dining room floor.  While I don't even want to think about how badly our food was likely sabotaged that night, those pearls certainly got us some attention, and fast.  I'll always remember that waiter scrambling around on the floor trying to corral those pearls!  Regardless of the entertainment value, I decided then and there that I was done paying money to people who insist on coats, eating in a specific order, pairing only certain wines, etc.  Screw 'em, I'd rather eat elsewhere.
So, that brings us back to Keller and The French Laundry, which requires a coat and is pretty darn rigid.  In fact, the only restroom for patrons at the restaurant  is up a flight of stairs behind a smaller second level dining room.  If any of the staff are heading up or down the stairs and a patron starts up or down the stairs, the staff immediately turn around and return to the top or bottom of the stairs to wait for you to pass.  While that might sound like pretty attentive and thoughtful behavior, I found it to be a bit silly for a lady balancing a half dozen glasses of wine on a tray to go bounding back up the stairs when she was only two steps from the bottom, just because I make an appearance at the bottom.  Let's be reasonable folks.
Regardless of some of the silliness and the required coats and such (and by the way, they DO turn away anyone without a coat, which given the wait time to even GET a reservation at this place, must really suck …), the food and experience at The French Laundry truly deserves the hype and accolades.  Out of the 16-18 courses that are served as part of the menu, there wasn't even a single miss.  And in fact, every one of the courses was a candidate for being the best example of that particular set of flavors I've ever had.  There are a zillion reviews of the French Laundry that you can read for yourself, and my input is that they've thoroughly earned their stripes!
To kill time between lunch and dinner, we decided to taste a few wines at Alpha Omega, a high end (read expensive) winery located just up the road from Yountville in the Rutherford appellation.  Reminiscent of Darioush winery, AO serves some really nice, big reds that mostly worth the $80 bucks or so that they charge.  On this visit, after a few samples directly from the barrels, we were proud owners of futures on some of the vintages.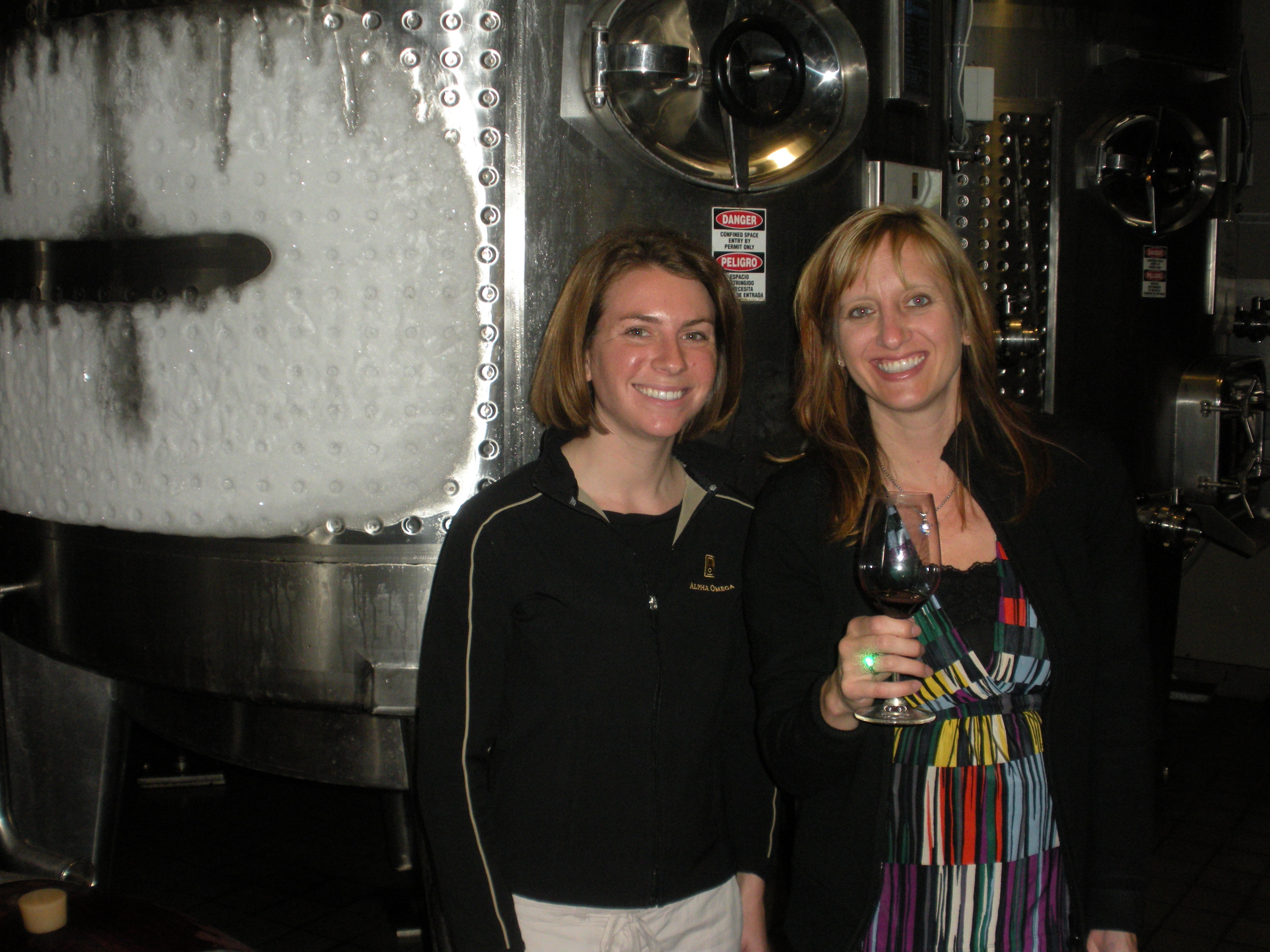 After our mid-day dinner at the French Laundry, wine tasting at Alpha Omega, and a brief stop at Chandon for a celebratory glass of champagne, we queued up for a late-night dinner at Bistro Jeanty's, just down the street from the "Laundry".  Chef Philippe Jeanty previously owned a restaurant in the financial district of San Francisco called Jeanty at Jacks which we liked quite a lot.  That place has since closed, and we were curious how the Yountville restaurant was doing.  The night we were there, the place was packed.  The service was typical Parisian slow, but the food was simply amazing.  We started with some awesome quenelles de brochet (pike dumplings with lobster sauce).  For mains, Laura had a very nice quiche, while I ordered the coq ou vin.  That coq au vin was without any doubt, the very best rendition I've ever encountered, with thick, tasty gravy, falling apart meat, and an ample collection of vegetables served over fresh made pasta.  Absolutely terrific.  While Laura and I are mostly not dessert people, we splurged and ordered the mousse au chocolat brulee, which is pretty much the best rendition of a creme brulee either of us had ever enjoyed.
Finally, on Sunday morning we capped off our weekend food fest with a visit to another Keller establishment, Bouchon, located just down the street from The French Laundry.  We've been to Bouchon at the Venetian is Las Vegas numerous times.  In fact, our somewhat annual "Display Team" dinner of a dozen or so people we worked with in the past is held at Bouchon in Vegas every year during the annual Consumer Electronics Show (CES), so we know the restaurant well.  It's also where I first discovered chicken & waffles, during a late brunch one New Years Day a few years back (after a late of night the GooGoo Dolls, and generally tearin' up the town).  In Yountville, the Bouchon performs at least as well as the one in Vegas, but on a smaller scale.  What's sad is that I barely remember what I ordered for breakfast that day, because Laura's quiche was so damned good!  The texture of the eggs in that quiche was a simply perfect.  Custardy, quivering and full of flavor.  Best I've ever had.  If the truth be told, I do remember what I ordered: the boudin blanc, which is a house made white sausage served over pureed potatoes that probably consisted of 50% potato and 50% cream and butter.  Even then, still not as good as that quiche!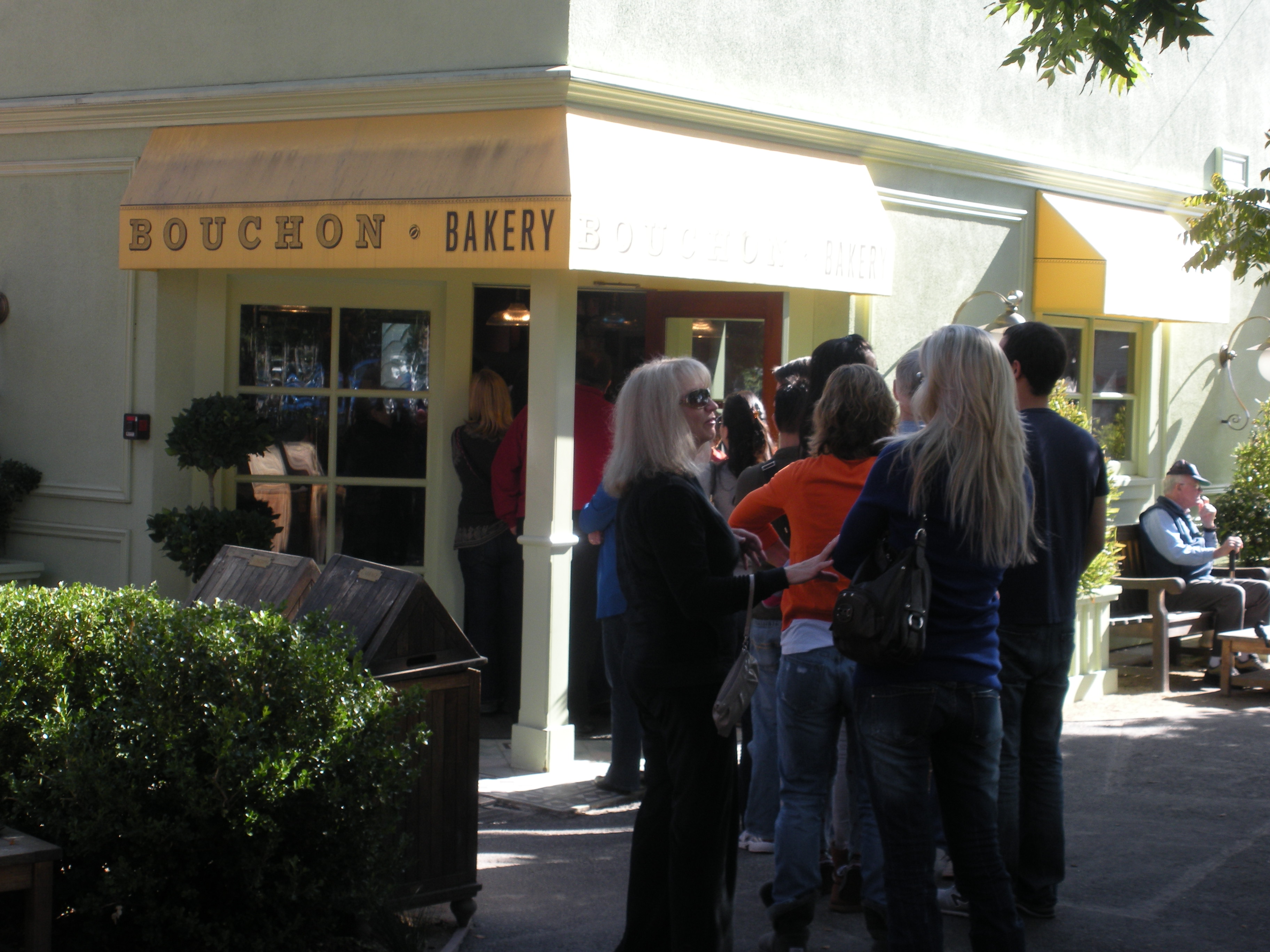 With a final stop at Domaine Carneros for a last glass of champagne, we brought our weekend of gluttony and pleasure to a close, and with an even better understanding of why some of these Celebrity Chefs get so much attention.  Their food really is that much better than the other guys.
– Chris