Almost one year ago Laura and I embarked on our original San Francisco Tapas Crawl (see my blog entry describing our adventure), inspired by an article in the San Francisco Chronicle.  Tapas crawls are exciting – new restaurants, no reservations, no schedule, and no expectations other than for a memorable night!   There's a certain adventure to exploring new neighborhoods on foot, and not knowing how we'll be received when we show up at a restaurant and stay long enough for one plate and a drink before we take off to our next stop.
This past June we planned a new, all original Crawl thru the City.  After the requisite hours of research, and the not inconsiderable help of thousands of Yelpers, we settled on a set of four restaurants, all claiming Tapas excellence,  and distributed over a one and a half mile stretch of the Union street corridor in San Francisco.  From west to east along Union, our target list of restaurants for the evening was:
Our Crawl started at a little restaurant called Pesce, located on Polk just south of Union.  Pesce actually specializes in Venice inspired seafood small plates (not traditional basque tapas) but seemed close enough to us.  From Pesce, we proceeded 0.3 miles down Union to Zarzuela, a popular local Spanish eatery.  While Zarzuela that doesn't have a bar you can eat at, they will happily seat you at a table, even for just a glass of wine and a tapas or two.   From Zarzuela, we were off to Iluna Basque, located 0.4 miles further east on Union at Powell.  The evening finale was at Piperade, 0.8 miles away in the Financial District, located on Battery not far from the Embarcadero.  This last 0.8 miles skirts Telegraph Hill, so we hired a cab for that portion of the route and saved some climbing.  Excluding getting to and from the hotel, total walking distance for this trip is 1.5 miles – pretty easy compared to our original crawl (all on foot) of 2.7 miles!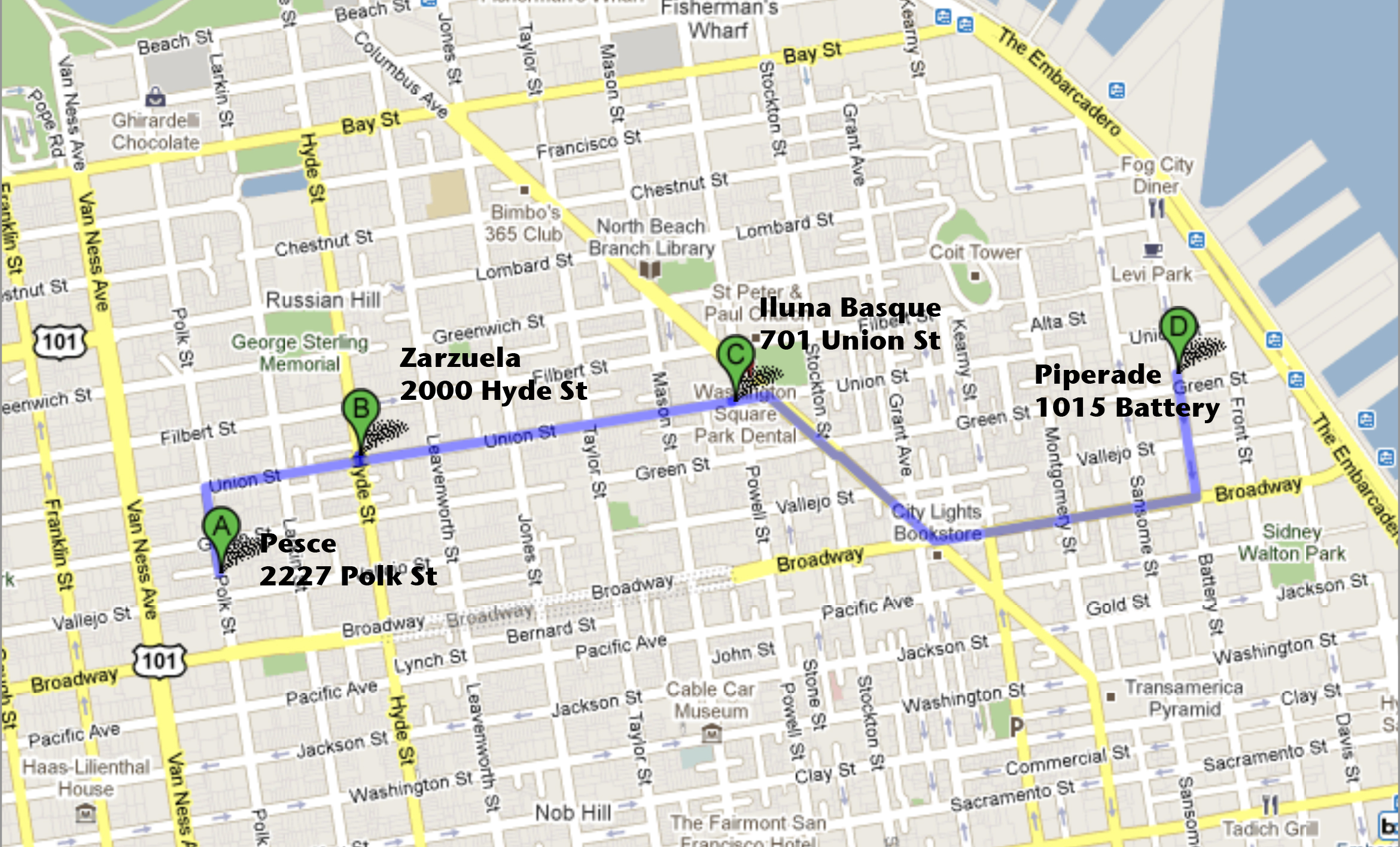 Our feet hit the ground at about 6:30pm on Saturday, but only momentarily since we cheated and grabbed a cab, rather than walk the 1.7 miles from the hotel to the restaurant.  Our first stop, at Pesce, was an excellent kick off for the evening.  Pesce is a small but very happening place, with a line out the door but energetic staff moving things along.  We had no problem getting two seats at the bar, where we started with a caiprinha for him, a prosecco for her, and a half dozen very fresh oysters on the half shell for both of us.  We finished with a fabulous side of oyster "shooter" featuring a shot chipotle-infused vodka.  While there was lots more on the menu that looked good, we were off to our next stop.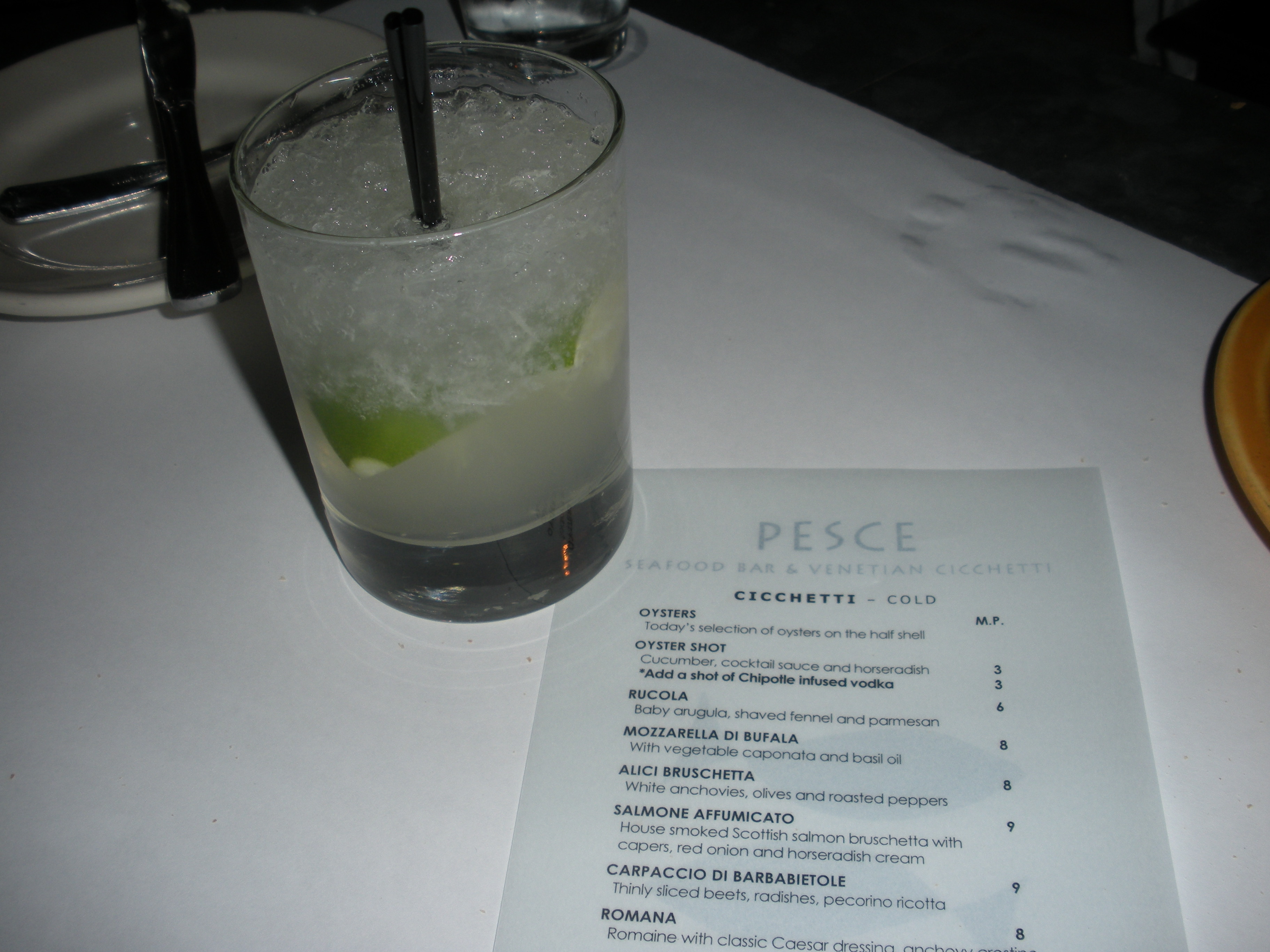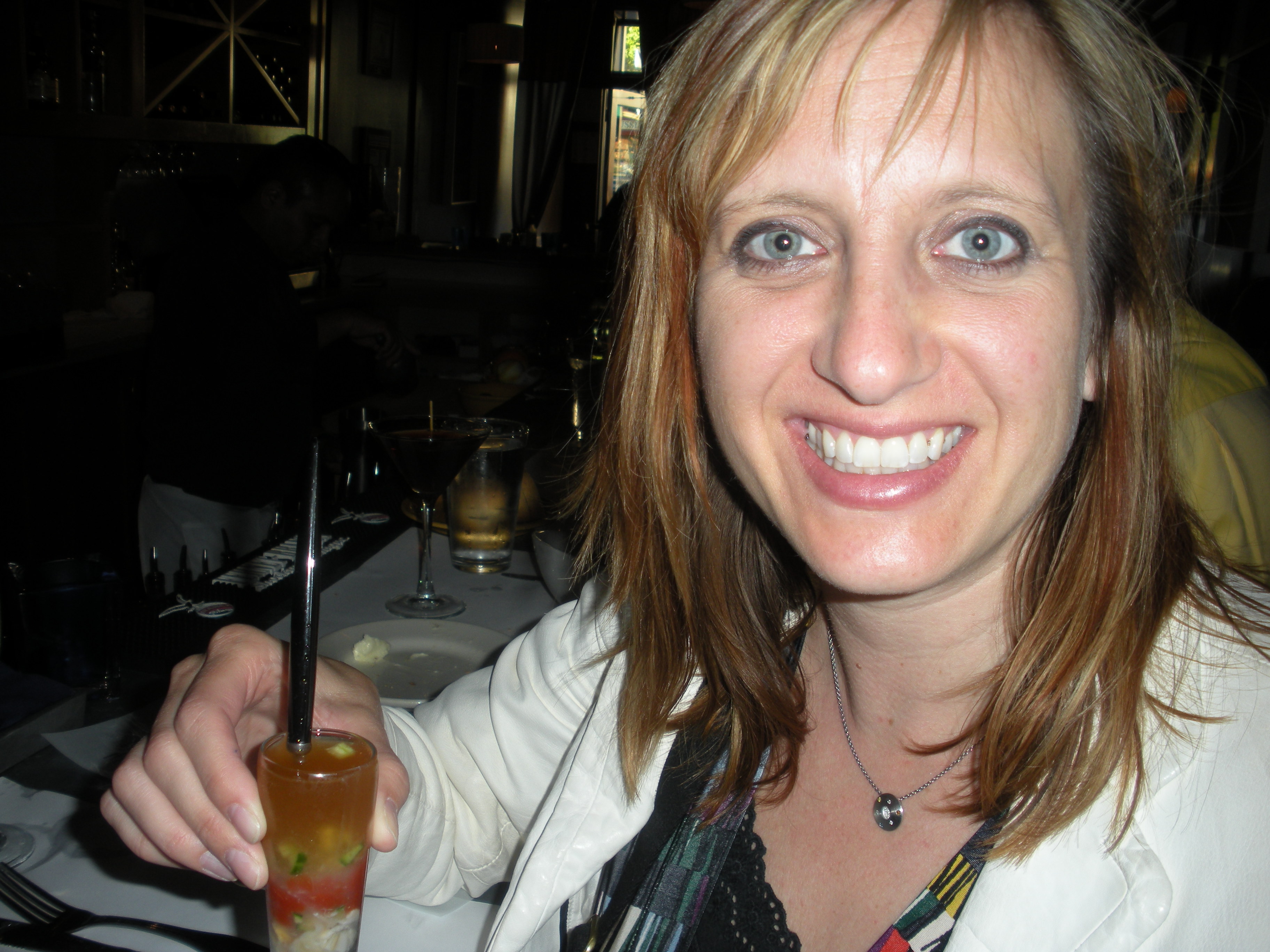 Zarzuela looked familiar when we arrived and the reason is that we had indeed been here before, albeit two years ago.  Zarzuela doesn't have a bar that you can eat at, which is our usual mode of consumption on these crawls.  However, the maitre'd happily seated us at a table when one became available, even after we warned him we were only going to order a plate or two and a drink.  We ordered a fine pair of Sangrias and munched happily on marinated olives while waiting for our seafood bisque and probably the best marinated, poached octopus we've ever had … and we've had a few.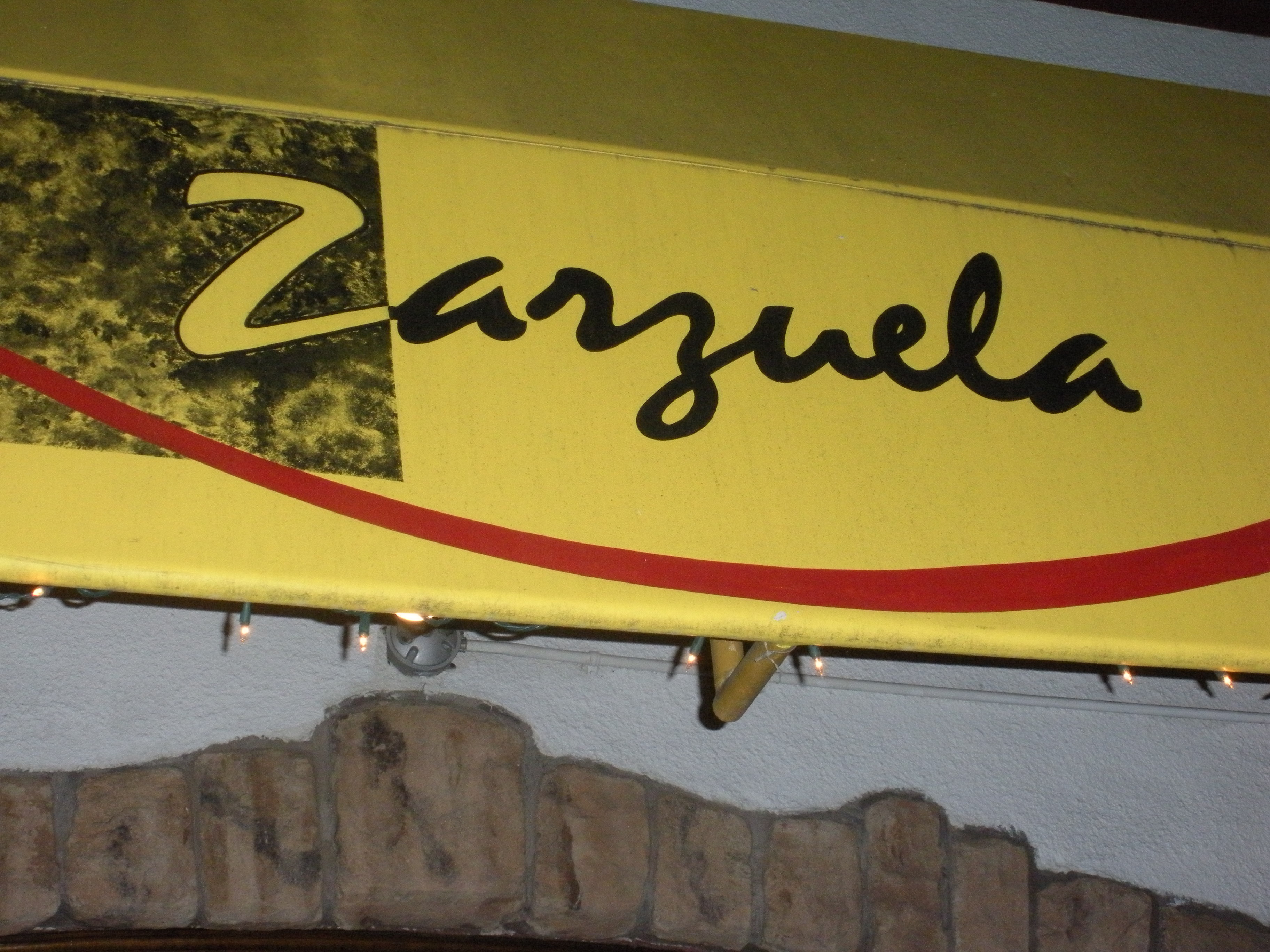 After Zarzuela, we headed out to Union and enjoyed the night time views of Coit Tower and the Bay Bridge.  The residents on that street have a truly fine view!  It's moments like that when Laura and I start wondering (again) why we don't live in SF…
Iluna Basque is run by a young Basque Chef whose dishes feature traditional basque tapas recipes infused with local ingredients.  This restaurant has mixed reviews on Yelp and while the decor and location should add up to a very busy place, it was almost empty when we arrived at 9pm.  We plopped down at the bar and ordered a spanish red for me and an Argentina Malbec for Laura and theorized on why the restaurant wasn't hopping.  After ordering the food, we get it.  The food wasn't bad, but it just didn't reflect the care that you can find at plenty of other SF establishments.  When the diners have choices (and in SF, we do have choices) you have to bring your A-game every day.  Our stuffed piquillo peppers were ok, but the peppers were slightly overcooked and the potato/cod stuffing was watery.  We tried a second dish, plums wrapped in bacon.  Not complicated, but very good.  I looked for Chef  Noblia but he didn't seem to be on the premises.  This place as lots of potential, and should be packed.  Too bad.
Conveniently, we were able to catch a cab almost immediately outside the restaurant and so there was no hike up telegraph hill for Chris and Laura this evening.  Instead, we arrived in mere moments at our final stop for the night, Piperade at 10 minutes before 10pm.  This restaurant is located in the Financial District which means it can be hit or miss on whether any weekend ambiance exists. It turns out that the kitchen was just closing as we entered and the place was clearing out.  According to our waitress, there are just enough local businesses operating on Saturday to stay open for dinner, but just barely and service ends early.  Fortunately, Laura turned on her charm and we managed to get the kitchen to make a chantrelle mushroom tart that was spectacular.   Along with a couple of complimentary glasses of Cava and a plate of fried potatoes, we spent a relaxing and enjoyable 45 minutes at Piperade.
Three hours after starting our Crawl, full of food and drink, it was just a short walk down Battery to Broadway to catch a cab and back to the hotel!
With another wonderful Tapas Crawl in San Francisco behind us, we began planning our next crawl, scheduled to take place in September but this time taking place in the mother country herself, in the cities of Valencia and Madrid!  Stay tuned …