My Mom used to make these thin, crepe-like pancakes when we were kids and we would scarf a dozen or more each.  That kept HER busy and us kids happy.  In those days, our favorite fillings were different types of jams – apricot, raspberry, strawberry – whatever was on hand.  Then, we'd drizzle them with maple syrup.  Although my Dad was more a Karo syrup kind of guy.
Now, decades later, I still use exactly the same recipe for the pancakes, but I prefer fruit fillings – bananas, peaches, or berries.  And I still drizzle 'em with maple syrup!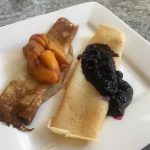 Danish Pancakes (Crepes)
Ingredients
1-1/4

cup

flour

1-1/4

cup

milk

1

egg

1/4

tsp

vanilla extract

1/8

tsp

kosher salt

1/8

tsp

nutmeg
Instructions
Making the pancakes
Combine all of the ingredients in a bowl, and mix gently with a spoon, spatula, or large whisk. Don't over beat. Add more milk as needed to thin the batter to the consistency of thick cream. Allow the batter to rest for 5-10 mins.

Meanwhile, heat a 10" saute pan, or even better, a crepe pan on medium heat.

Add about 1/4 cup of batter to the pan and tilt the pan so that the batter covers the entire bottom. Return the pan to the heat and watch carefully. Once the pancake is no longer obviously raw and wet on top, using a spatula, gently peel up the pancake and flip it over. Cook for a another minute or two on the opposite side.
Serving Ideas
Banana filling and Nutella! Add whipped cream as a filling or a topping. This one can't really be beat.

Fill the crepe with fresh or cooked fruit (see Fruit Filling/Topping Ideas) and then sprinkle powdered sugar on top. For fresh fruit, diced up strawberries or pineapple are both really good!

Go retro: Fill the crepe with any kind of jam or preserves, and then top with maple syrup. Or be like my Dad and use Karo!
Fruit Filling/Topping Ideas
Blueberries (or raspberries, blackberries): Add 2 cups fresh or frozen berries to a small saucepan. Add 1/4 cup sugar and 1 TBSP lemon juice. Bring to a boil, and then reduce heat and simmer 10-15 mins or until thickened.

Bananas: Peel and slice 4 bananas lengthwise. Place the bananas flat side down in a hot skillet with 1 TBSP melted (unsalted) butter. Sprinkle the bananas with cinnamon powder and 1 TBSP lemon juice. When the bananas are softened, flip them and cook them until they are soft all the way through.

Peaches: Remove the pits from 3 peaches, and cut the peaches into 3/4" wedges. Add the wedges to a hot skillet with 1 TBSP melted butter. Sprinkle with 1 TBSP lemon juice and cook until the peaches are full softened.